It's been several days since I posted on Facebook, Twitter and probably one or two of the other social media sites we're a part of, about Tippy being rushed to the ER. With the whirlwind of her near death experience it's taken this long for things to settle down and for me to get some sleep. However, I wanted to make sure to provide an update on how this girl somehow managed to survive a 36 per minute heart rate.
Tippy had been a little "off" for a day or two, but it seemed identical to her neurological issues "acting up." As a result, we started the protocol of prednisone and pain medicine in an effort to offer her relief. That same evening, however, she rapidly made a turn for the worst. In a matter of a short duration she had crashed completely, couldn't move, she was almost totally unresponsive, and her temperature dropped below normal giving her a cold little body. I panicked. I wrapped her up in a blanket and jumped in the car and headed toward the ER.
As I flew down the road, I was genuinely terrified that she'd be dead by the time I reached the emergency clinic. I kept rubbing her, talking to her, singing, and doing all I could to keep her stimulated. En route I checked her heart rate, only to learn it as 36…in turn making mine seemingly 300. The drive is a long one, and I prayed that she'd not die. She was pitiful. Just pitiful.
After thanking the good Lord for no ticket or deer running out in front of me, I squealed into the parking lot. Adrenaline racing through me like a mad rabbit, I grabbed her, ran inside, and (probably incoherently) rambled off to the technician and receptionist that she was urgent. The technician took her to the back, and I took a moment to catch my breath. I'd driven so fast and was so wound up that I felt like I'd sprinted the 40 miles to get to the clinic.
A short while after giving permission to run the critical care regime, sweet Dr. Elliot came into the room. He explained what they were doing to get her stable, showed me her bloodwork, and explained that it was classic signs of Addison's Disease. My heart sunk.
Many know that I went through 5 1/2 years of Addison's Disease with my personal Pyrenees, Brewster (along with his diabetes and borderline hypothyroidism). Addison's is a rather difficult and costly disease, however, it can be managed and dogs can live a good life. Now, my Brewster had a lot of hits against him – whatever direction they came from, though, he took them and always bounced back. He was a hell of a fighter and determined, so I continued to help him with his fight for those 5 1/2 years. Apparently Tippy is quite the fighter herself, for she's tossed her neurological issues to the side, enjoying life as if there's no problem after being thrown over a 6 foot fence onto concrete and wobbling/falling to and fro as a result. She doesn't care because she's happy. Now she continues to show her strength by beating her "crash" and getting back to her daily activities.
Addison's Disease is an adrenal disease that affects the potassium, sodium, and cortisol levels, which in turn affects other things (glucose, kidneys, etc). It isn't always easy to diagnose because the symptoms can be vague or mimic other things, but Tippy's "crash" made it simpler because at that point everything was out of whack. I suppose that was the one good thing about her failing…it was so bad that it was easy to diagnose. Must look at the bright side!
Tippy is doing much better now after the ER visit and hospital stays, and she's back to pottying, walking and eating on her own. She will be on lifelong medication, and we'll have to do scheduled testing to make sure the medication is working properly. This is the biggest obstacle (all of the tests) because they must be repeated throughout her lifetime in order to make sure her body is reacting properly and her levels are in the safe and correct zone. This will be more often at first, then tapering off as she shows consistency, yet it will be a forever thing, along with her medicine. Tippy has made it clear, however, that at 2 years old she is up for the job and completely unafraid. That's our girl.
So, here we are, almost $1000 later, with Addison's. Despite, Tippy is alert, playful and doing well. We will retest her levels in 4 days to see how she's doing.
*** It is here that I must say thank you to a veterinary technician at my vet clinic (Holly Tree Animal Hospital). Crystal, knowing that our funds had been attacked and diminished, took Tippy home with her overnight for monitoring out of the goodness of her heart. If we'd of had to take her back to the ER for monitoring it would have wiped out our emergency fund and leaned dangerously toward cleaning out our checking account. The initial night's visit at the ER was close to $500 for about 6hrs. It was necessary, and we weren't taken advantage of in the slightest, but emergencies are expensive. So sweet, sweet Crystal, did the monitoring for us on the 2nd night, in essence working a 24 hour shift to make sure Tippy was safe. I can't begin to tell you how grateful I am to her for going above and beyond, losing sleep, and caring for this sweet little Maltipoo while she fought. There are very few people in the world who would do that, and I want to scream her name to the public and let you know that she was remarkable. Thank you, thank you, thank you, Crystal for going the extra 5 miles for Tippy. ***
And thank you to my doctors and other technicians, including another that offered to take her home, who worked so hard for her…and who will continue to do so.
Here is Tippy in the hospital:
Tippy in her hospital room, hooked up to all sorts of lines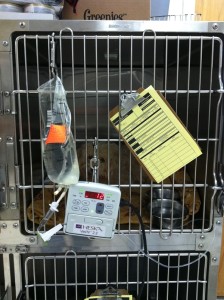 Monitoring sheet at the hospital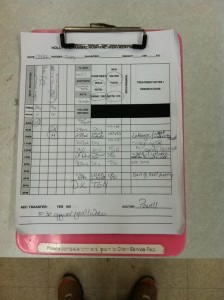 Some of Tippy's novel of a chart.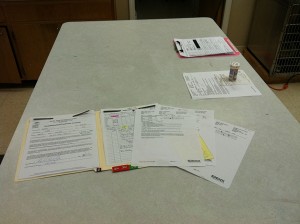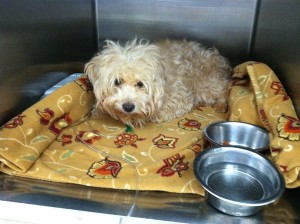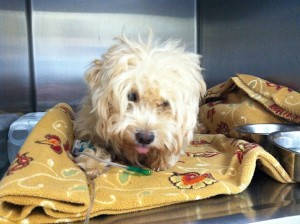 Tippy wrapped up in her blankie as I took her from one hospital to the other.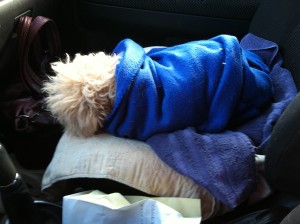 And to boot – here is the sweet girl taking care of one of her favorite men last night, Belvedere, despite being sick herself (click on link below):
Nurse Tippy, the forever nurturing Maltipoo
So, please keep Tippy in your prayers for an easy road to travel, continual positive results, and a long life head of her without any further battles. She's a tough little munchkin, that's for sure, and I have to say that there is nothing that makes you more proud and more humbled than to see a sweet little girl like this defeat the odds.
Now Tippy, let's leave it at 2 lives and not shoot for 9, how 'bout we?