So yeah, I broke my rule. I have reinstated that rule, but as for the breakage, I think you'll understand why.
I watched this girl for, surprisingly, a few weeks as she consistently came across my desk in a list of about 30 each time. I thought to myself "I can't. I have to hold off." I hoped and prayed someone would rescue her, but each time she hit my inbox it was more crucial. Earlier, I'd decided to stop by and meet her so that I could get photos and send her out to all of my contacts. Perhaps that's where I failed.
My dear friend, Jami, and I visited the shelter and took this girl out to temperament test her and get more photos. I said sit, and she sat in millisecond. I was so impressed with her fast action hips that I decided to give it a shot and say "Shake." Her paw was in my hand instantly. Brilliant girl, she was! She also gave out kisses, walked well on the leash, and was beautiful despite being far too thin and a chopped up coat.
Okay, I would spread the word and show off her photos:
Yeah, that was the plan.
A little while later, after my failed efforts to find her another rescue and the kind support of some nice people who contributed to help save her, she was in my back seat…or rather the front seat.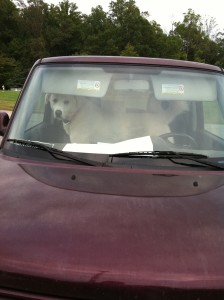 Meet Moxie, a girl true to her name. She is an overgrown, flirtatious, kissy poo, sloppy, deer legged pile of GOOF! This girl is FUH-NEH! Seriously, she is amazing and a down right riot. Well mannered, despite her comical antics, she has easily become accustomed to the every day routine and has fallen in love with all the dogs. She loves everyone! The cat she's not so sure of, but after all, it's a tiny, weird looking creature that hisses. So, the jury is out on that one.
Skinny, heartworm positive and wide open after being cooped up so long, she's totally FAB! So yeah…glad I did it.
AND NOW for the finale….
Everyone knows that China was a bright point in my rescue career and in my life. China was a genuinely divine spirit and a 49lb ball of everlasting love. I miss her dearly and always smile when I see her photos or think about her. I mean, seriously – how can you not fall in love with this?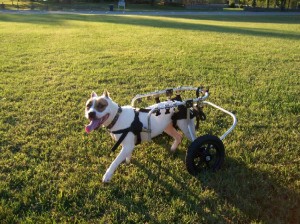 So, I think there's really no explanation needed when I introduce to you Miss Nyla. 🙂
I named her Nyla because it means "Champion," and I do believe she is a true champion. Just like China she can't use her back legs due to some sort of trauma. We're not sure if she was hit by a car or what, but she was found at a business, who in turn called animal control to pick her up. The shelter fell so deeply in love with her silly, kissy poo poo, happy personality that they fought hard to save her and get her into rescue.
There was a rescue in place to take her, but for whatever reason (or should I say obvious reasons) I let them know to get in touch with me if it didn't work out. Well, they did. So, the day I picked up Moxie, I also picked up a tiny little 29lb Pit Bull that smothered me with kisses, drug me around while I held her towel and supported her back legs, and did a nonstop grin from ear to ear all day long.
Doc says that since she's been that way for so long that we needed to focus on allowing her to use her back legs in the hope of regenerating some nerve activity.  So that's what we'll do, by golly. I think China's chair is too big for her (she's small, like Babe), but we'll come up with something to let her scoot around in. She is a bundle of love, no doubt, loves to back dance, and hands out kisses by the dozens. Over the weekend I caught her standing as she waited on me to take her out, and I was sooooooo excited! She works those legs as best she can, so we are in high hopes that there will be improvement. She can work that tail without issue, that's for sure!
Oh yeah – she, too is heartworm positive. Stupid worms.
Who knows…maybe Nyla will start up her own Facebook page.
SO. Here we are, rules thrown by the wayside, taking in two fantastic girls that do nothing but smile and kiss you. Once healthy and spayed, they will be available for adoption to someone who wants happy, goofy, bundles of joy.
Sometimes you just have to break those rules when you fall in love.