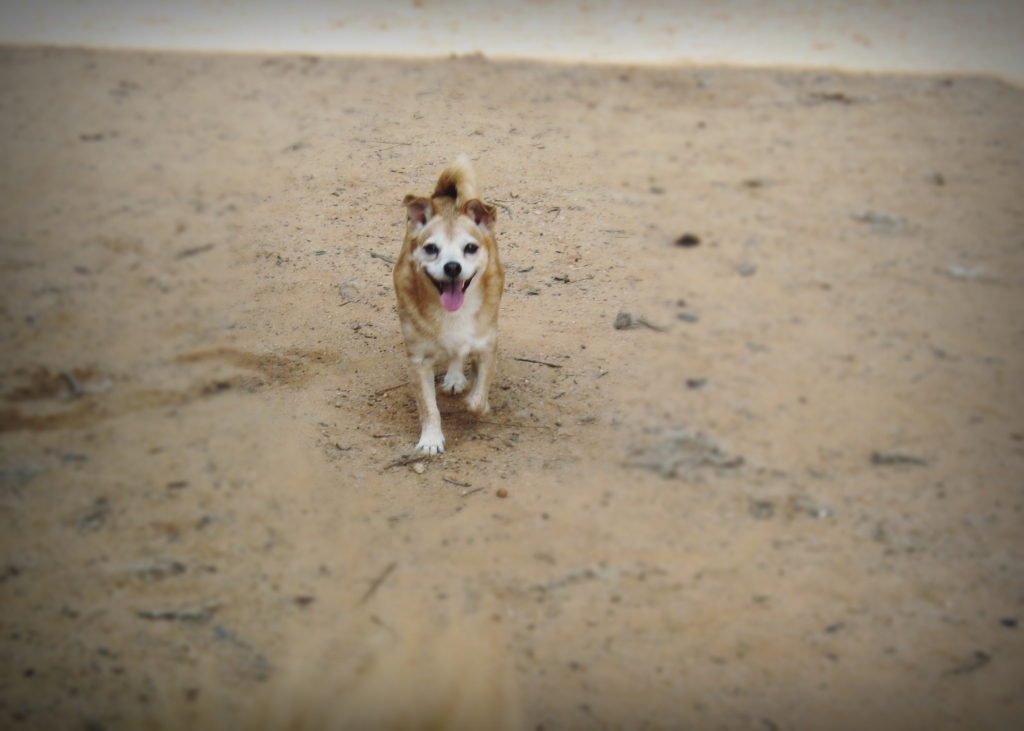 Oh, Lottie….
18lbs, enormous grin, and adorable feet.
Feisty, fearless, active and lightening fast.
Devoted to a fault, affectionate, and devilish.
Lottie came to us overweight, unsocialized, and sassy. Today she is a great weight, more socialized and still sassy. She can be the most adorable form of life on the planet. She can also be tough to manage when she is on the defense. Yet she is impossible not to love, and she is certainly worth not giving up on.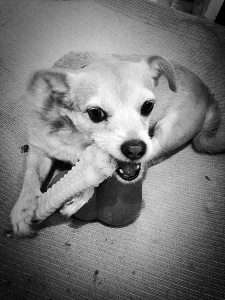 Lottie Specifics 
There are a few traits about Lottie to recognize in order to fully appreciate her.
She is a Chihuahua and Terrier mix
She can be fearful of people when first meeting them.
She is possessive of those she loves.
She can adore other dogs or dominate them.
She loves to sleep under the covers. She requires it.
She will follow you and sit with you wherever you go.
These are things that are pretty regular with Lottie. As a result, I make sure to tell anyone interested in her that they will have to be aware of them. I realize that some sound somewhat difficult to manage, but the truth is, Lottie can surprise you if you give her a chance.
My mother came over to help me with some house issues…fixer upper that I live in. Previously, Lottie had been a little shy and fearful with Mom, just because that's what Lottie does. Yet when my mother came over to spend the night I saw this side of Lottie:
She was mesmerized with my mother. She literally wrapped her paws around her and wouldn't let go.  She also slept with her all night.
This made me stop and think about the situation. This is what I decided on for Lottie's needs.
Little Lottie Lou's Ideal Furever Home
These things remain the same:
1. Lottie needs someone experienced with sassy dogs.
2. She needs someone experienced with fearful and shy dogs.
3. She needs someone with tolerance, compassion and patience.
4. She needs someone who will help her understand that a naughty attitude and some bullheadedness is not acceptable.
1. Lottie would love a home with someone who is happy and upbeat.
2. Lottie would love a person who is silly and playful, and who will allow Lottie to play games, act goofy, etc.
3. Lottie would love her parent to allow her to sleep under the covers with him or her.
4. Lottie would enjoy being an only dog OR having a bigger brother or sister who was calm, loving, yet would not let her bully him or her.
5. Lottie would benefit from someone who was social and had guests so that she could see more and more that people will be kind to her.
6. Lottie would benefit from someone who would continue to socialize her outside of the home.
Totally Worth It
Watching Lottie have so much fun with my mother was inspiring. She's not been the easiest dog that's ever come through the doors, but she's had so much love to give that I refused to just give up on her. She's been so much fun that I can't help but pick her up and smooch all over her little face all the time. She has the ability to make you smile and melt during frustrating times…you can't just give up on that.
And it's sorta nice having a little angel watching over you and by your side all the time.
I have to give her huge props for being so well mannered in the house, as well. Never chews, never gets into anything, and lets you know "I have to potty!!!!"
Just Do It
I think that if there is someone out there that would really like to have an impact on a dog's life, and they are willing to do a few extras to make sure she's happy and emotionally healthy, then that individual will be glad he or she did. Most of all, that person will adore this little muffin and walk around singing the way I do (to the tune of "What'll I do")…
"Little Lottie Looouuu, It's YOUUUUUUUU, you are so cuuuute,
And I love youuu, Looootie Looouuuu!"
I'm happy to teach you the song when you adopt her 😉