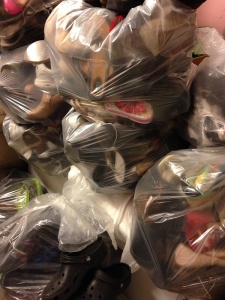 Since June, I have been all over town and social media begging everyone for gently used shoes that they no longer wanted or needed. Volunteers joined me in my efforts, bugging everyone they knew, explaining that it was for a dog rescue charity, and hauling shoes to and fro as a result. We've gotten funny looks, a lot of questions, and in the end many, many bags of shoes.
I know everyone is anxious to hear the final count, so I'll start there:
HOW MANY??
The final bag count was 200 bags and 13 pair. WHEW! We made it by the skin of our teeth, but we made it to the minimum. We were unable to reach our goal of 300 bags, which would have brought in $3000, but we since we got our 200 bag minimum, IF we reached the required weight of 5000lbs of shoes, we won't be deducted the shipping cost of $200. So cross those paws that our shoes weighed enough!
Regardless, we still raised funds, and we are SO grateful to everyone who participated and donated shoes! I never could have done it without you!  I also have to give kudos to my mother, who being the good mom/doggy grandma/foster parent that she is spent multiple nights at the "shoe office" bagging and counting with me.
Solar Tan, Holly Tree Animal Hospital, Simpsonville Family Chiropractic and Group Fit…thank you from the bottom of my heart for allowing people to drop off shoes at your place of business and for holding mounds of them for us until they could be picked up. To my sweet friend, Donna, who collected and allowed us to use her garage for storage and counting…you were a lifesaver!
Let's give them all a huge round of applause and pat on the back for such a generous act! *clap, clap, clap – You guys rock!*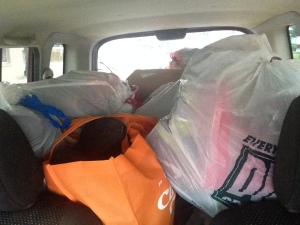 Now, for the ladies who did all the crazy work of picking up shoes from people, rubber banding pairs of shoes together with your own two hands, counting them, stuffing them in bags, hitting yard sales, offices, and more to gather the shoes, and allowing your cars, garages and houses to omit a slight odor for a limited amount of time…you have no idea what an incredible help you were, nor how much you mean to me for such a selfless, hard working, dirty, stinky, over-the-top act of kindness. I feel like I need to buy you all candles, chocolate, and a tank of gas. You ladies are amazing! *clap, clap, clap – You guys rock!*
I also want to send out a heartfelt thank you to all of the individuals who shared the information, donated shoes, collected from friends, and took the time to drop them off at one of our drop off locations (or meet me), and even mailed boxes of shoes. Several people mailed shoes – they came from other South Carolina cities, Virginia, North Dakota, Tennessee, Massachusetts, and Seattle! *clap, clap, clap – You guys rock!!!*
Your thoughtfulness, donations and hard work are what made us gather 5013 pairs of shoes. EVERYONE did an amaaaaazing job! THANK YOU!!
BUT I DIDN'T HAVE SHOES!??!
Some people have asked about donating $10 in place of a bag of shoes, so here is a link to a fundraising page for those who didn't have shoes but wanted to do something (for those who already have…thank you so much!):
JOINING FORCES

Look at all of the people that donated and participated (in no particular order). Take a gander at how when people work together good things are accomplished. This is what charity is all about. 🙂
(PLEASE KNOW that if your name is not on here, it does not mean I am unappreciative!! It just means 1) that I didn't realize you donated [meaning, you dropped them off or something] or 2) you were on the lists that Shelby played with and messed up [she apologizes]. Lord willing, I am not going to forget someone that I know donated…that would be humiliating, and I want to apologize in advance if I left off your name…but hopefully I won't make such a tragic mistake [but knowing my capability of being an airhead or forgetful nut, I feel that I should apologize beforehand, just in case] ).
To all of you…thank you for being so generous. Thank you for being so nice. Thank you for being happy to help.
Lelia K.
Cathryn Mc.
David Mc.
Kathy V.
Tiffany B.
Keli M. & the staff at Solar Tan
Elizabeth M:
Glynetta Mc.
Deanna S.
Miranda R.
Donna B.
Holly Tree Animal Hospital doctor, staff, clients & everyone who dropped off there.
Jackie Y & Group Fit members
Monika H.
Adair S.
Dr. O'Bleness at Simpsonville Chiropractic
Ellise L & Wag Dog Spa
Crystal H.
Catherine P.
Sara &  Clyde E.
Robin D.
Robin S.
Jesse T.
Vicki S.
Nancy B.
Jonathan R.
Paula (Ms. Cherokee)
Caroline R.
Lori R.
Kathryn H.
Colleen F:
Emily H.
Jane M.
Toni H.
Jami P.
Crystal J.
Mandi S.
The Hollands
Janet S.
Leanne T.
Danialle A.
Laurie S. and friends
Coleen K.
Debbie E. & the staff at Shellpoint Mtg
Susan H.
Brenda
Ann K.
Donna B's neighbor
Jodie M.
Nancy H.
Jerry B.
Walmart Pharmacy Staff
Leslie L.
Pauline S.
Susan N.
Children's Medical Center
Lyn S.
Nannette C.
Kay Mc.
Patty S.
North Dakota friends
Lauren G.
Olivia G.
Sammy T.
Sara T. & Bethany Baptist Church
Earline P.
Alissa S.
Lastly, thank you Funds2Orgs for the fundraising opportunity.