(A Brin-dobe!)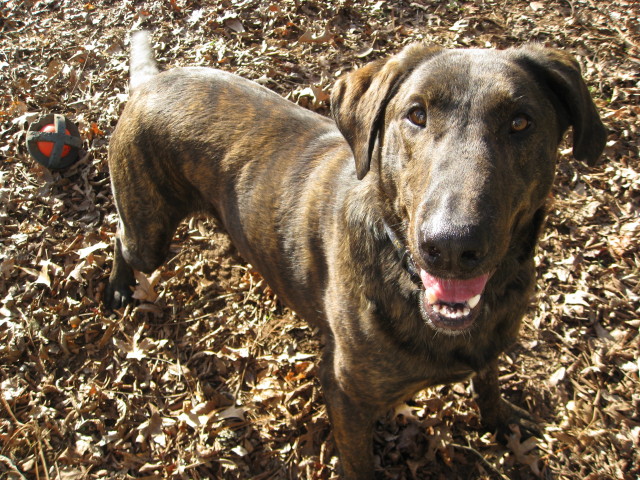 Meet Shelby, an 84lb, stunning brindle Doberman mix. This incredibly gorgeous girl is as sweet as her photos display. She's incredibly endearing, and you can't help but smile when you're around her, instantly falling head over heels in love.
Shelby's owner passed away, and as a result, sadly found herself at the pound. We saw that fantastic smile of hers and it was love at first sight. Hook, line and sinker...then she came into rescue.
Shelby is a very well behaved girl with great indoor manners. She is crate trained, house trained, and rides well in a car. She also loves to gallivant outdoors and chase her favorite buddies around the yard, playing hard and loving every minute of it. When it snowed, she was thrilled! She also loves to play fetch and retrieve, and would make a good companion for someone who is athletic and active. After playing, however, she likes to come inside and either lie down beside you or plop onto her favorite soft spot. She relishes a soft cozy bed! Currently her favorite spot is lying on the recliner with her head resting on the arm of the chair (giving a look that says "I am soooooo sweet!").
Shelby loves everyone she meets, and loves to snuggle with children. She is such a social butterfly and loves to go on outings where she can play and meet people. She slaps on her "perm-a-grin" and thrives on the joys in life. She makes sure you enjoy your adventures, too, by looking utterly irresistible and making you proud to have her by your side.
Shelby's only vice is that sometimes she doesn't do well with other females and she is protective of her things with other dogs, mainly females. However, she would do fine with a large male in her forever home and enjoy the canine company. It would probably be best if she didn't have a home with cats because she plays too hard with them and will chase them. She will need a fenced yard so that she can run and play without worry, as she tends to run away from you without the fence. As a result, she will need to be on a leash at all times when not in a fenced area.
This is one girl that has stolen the hearts of many, and her foster family absolutely adores her. She has so much love in her heart, gives soft gentle kisses, snuggles superbly, and has such a fantastic outlook on life that you cannot help but be smitten with her. Shelby is one girl that you can't resist! We know that we'll sure miss her when she's gone, but we are excited at the prospect of her finding her forever family and never being alone again. If you would like to meet this wonderful girl, be sure to let us know!
Bluebelle!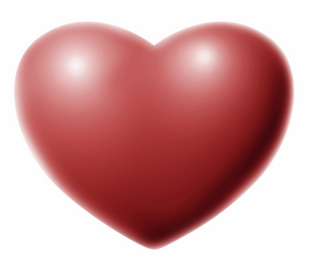 A bulldog/something-or-another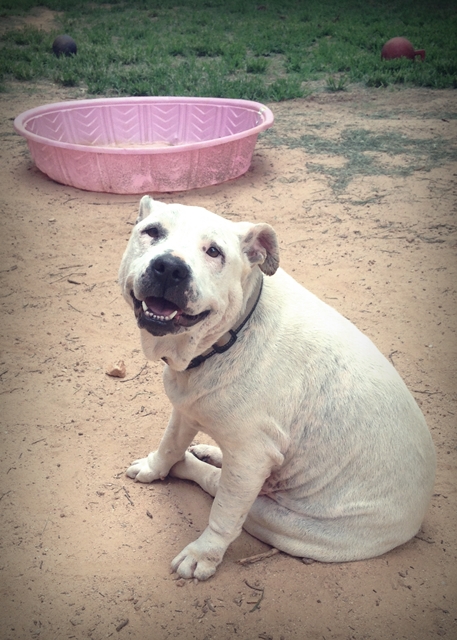 Bluebelle is one spectacular senior gal! Although don't let her hear you say senior, as she has no idea that she's not a pup! At around 7-8 years old, this active and playful girl acts like she's 2!
Bluebelle is one of the happiest, most loving, and positive ladies we've ever met. Always wearing a smile, she greets everyone with love, a wagging tail and lots of kisses. She is bright and cheerful and FULL of love!!!
Bluebelle is a very strong girl, much stronger than you'd imagine, so she needs someone that can handle that strength while walking since she gets so excited and pulls. We're working on this with her, but she just loves to explore, meet people and enjoy life, so she goes for it with gusto!
Bluebelle loves other dogs and would enjoy the company of another canine companion in her forever home. She is always curled up with a dog or two, snoozing with them or playing with toys. She is wonderful with puppies and adults alike, thinking everyone is grand. We're not overly certain on cats, as she's not mean but she would play too hard with them. So to be safe, we think it might be wise to not have a cat in her forever home.
Bluebelle also loves toys! She enjoys throwing a Jolly Ball around, chewing on a Nylabone or chasing a Frisbee. She is so young at heart and just loves to have a good time. When she's not playing she's lounging in the house, taking a good nap or handing out kisses to her foster family.
Bluebelle is hypothyroid and is on medication (2x daily). She takes it like a champ and carries on about her day. Since getting on the meds her coat and skin have improved, and she looks much better.
This is a girl that everyone adores due to her spunky and humorous personality alongside her kind disposition. If you'd like to see this glowing lady yourself, just let us know!