Lottie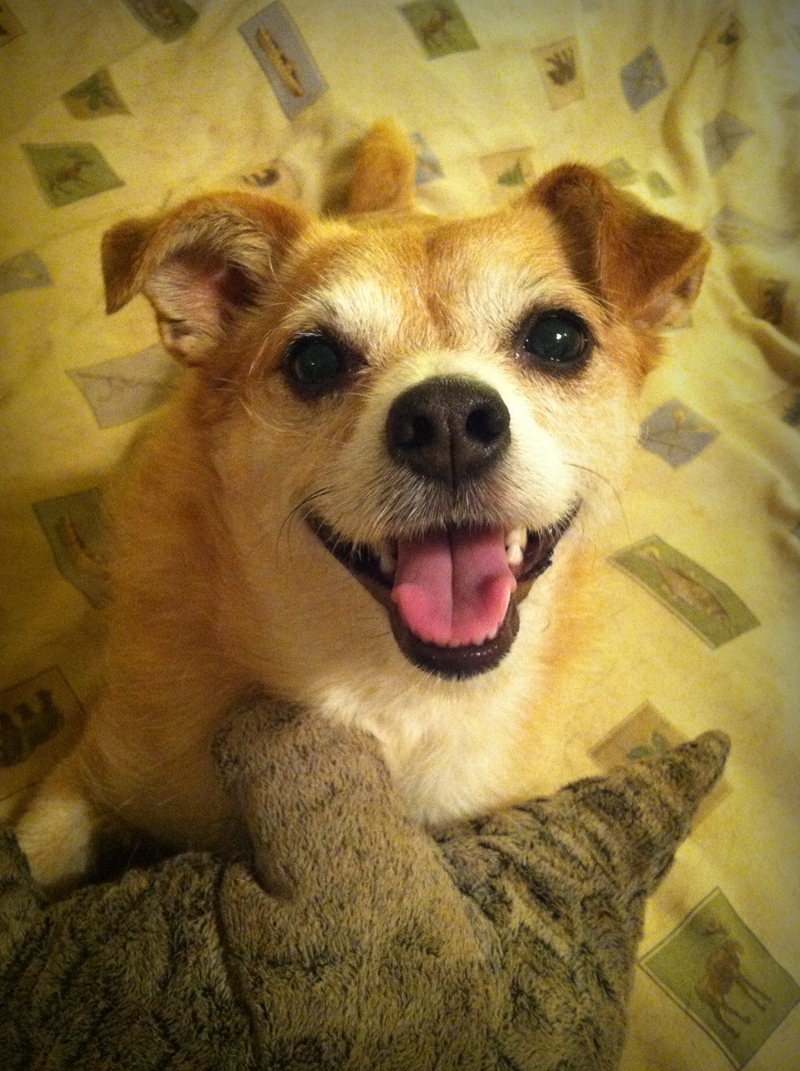 Meet little Miss Lottie Lou! Lottie is an absolutely precious little Chihuahua/Terrier mix that came into our rescue afraid and unsure. However, this little girl is now running the roost! Full of herself and full of life, this fantastic little funny lady will keep you in stitches with her "I am Woman!" attitude.
Lottie is around 20lbs and as cute as they come. She has a smooth coat, stylishly accompanied by a semi-rough "scarf" around her neck area that consists of a little longer hair. She boasts an absolutely adorable smile, as you can see in her photos, and she is full of fun and comedy.
Lottie loves to snuggle with her human and you will often wake up to find her completely under the covers, curled up next to you. She is full of kisses and will provide you with many. Lottie is very attentive when you talk to her and listens intently, making eye contact and turning her head from side to side. She is completely devoted to her human and as a result protective of them. Lottie will need someone who is willing to continue socialization with her so that she'll know she doesn't need to put up a guard when someone comes near her person. She is making progress with this little idiosyncrasy, and once she is meets other people and they're patient, she does fine.
Lottie enjoys some dogs and others not so much - but she does not like cats at all. You'll often find her running around the house playing catch or wrestling with Monet (below), giving that Great Pyrenees a run for her money! All the while she'll wear a huge grin on her face showing how their little game is great fun! However, she would also enjoy being the only dog who gets all of the attention. She thrives on love and companionship from her human, following her person around everywhere they go, waiting patiently for you to finish whatever you're doing.
Lottie loves toys, her current favorite being a stuffed dinasaur and a squeaky Milk Bone. In addition, she loves the bathtub and will often jump in and just hang out for a bit. She's full of funny little antics that make you laugh!
It would be best for Lottie to have someone experienced so that they can deal with her sometimes diva attitude and socialization. *No children of any age, please.*
Miss Lottie Da is really a great little girl that you can't help but love. If you'd like to meet her and see for yourself be sure to get in touch with us!
Great Pyrenees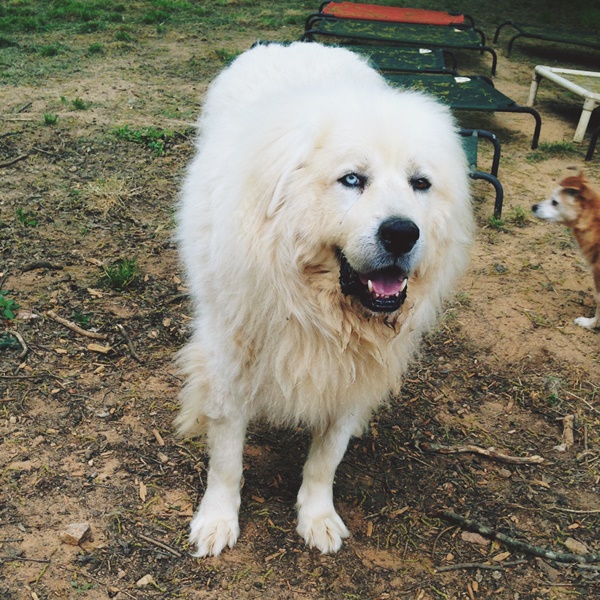 McCraw, a 6 year old Great Pyrenees, is the victim of abuse and neglect, living a life of fear and confinement. At first he lived on a chain. After a rescue group built him a large, fenced area, his previous owner chose to ignore him and his fenced area. As a result, McCraw looked like this (click on thumbnail for larger view):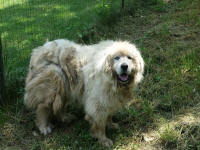 He lived in this:
Working together with the Speak Out and Rescue in KY, he was finally released from his horrible confinement and came into k9.5 Rescue. He's never looked back.
McCraw was terrified of people at first, but once he realized the love he'd receive he quickly warmed up. He is very responsive to kindness, hugs, and adores being doted on. He still jumps at unexpected touches, can sometimes be scared when a large man walks by or if there is an unanticipated noise while out and about, but he really enjoys being a dog with people who care about him. He has learned to socialize with other dogs, but would do best as an only dog or possibly the brother of a kind and relaxed female dog - we'd rather there be no cats or children in his forever home. He will also require a fenced yard due to the Great Pyrenees roaming breed.
McCraw enjoys going on "trips" and walking through pet stores. He rides great in a car, is crate trained, house trained and does great for grooming despite that horrible coat he had to deal with prior. He is a drooler, but that drool is full of love. He likes to take care of the yard by warding off birds and cars with his big bark, and he loves to lay his big head in your lap for some attention.
McCraw will need some patience and understanding upon his transition to a forever home, as it will be confusing for him. He would do best with an experienced owner who has previously dealt with this type of thing and is willing to accept and work with some stress and worry from him. He needs someone that will allow him to be a dog and learn what it's like to live the good life.
McCraw longs to be spoiled and treasured, and he will provide devoted love in return. If you want to make a difference in the life of a Great Pyrenees, McCraw is a super boy that would be forever grateful for your kindness.