(Great Pyrenees)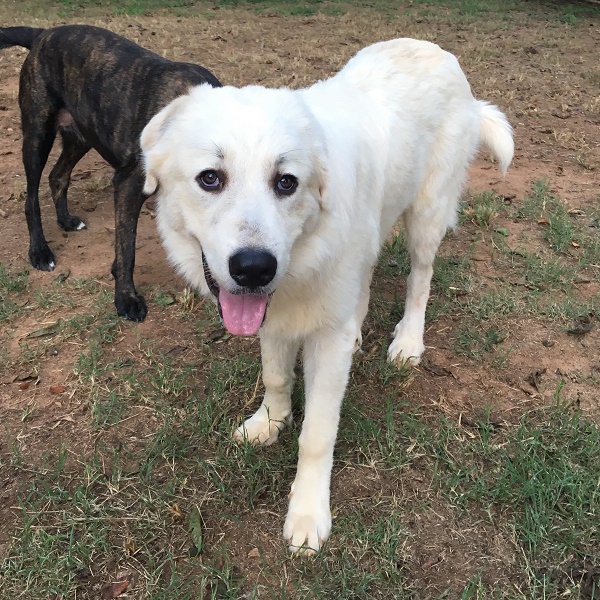 Fozzie is a year old, 90lbs Great Pyrenees with 2 more years to grow. Coming to us with an incredible amount of parasites, borderline emaciated, and swimming in fleas, he was in dire need of some TLC.
Now he's grown into a handsome young man that is full of fun and sheer goofiness. Always playing with his buddies, he romps around the yard until he can't romp any more. Good natured and easy going, he does well with other dogs, but he will need any canine friends to be female in his new home.
He is also very well mannered indoors, and has never had an accident. Along with being house trained he is crate trained. He's a champ for veterinary work, although he is afraid of the scale...and the car. He will need someone who understands and can handle assisting him as he gets in and out of the car.
Fozzie is a big teddy bear with a really big bark that would need to be considered if you have close neighbors. He will require a secure fence so that he can continue to play as he wishes, due to the Great Pyrenees desire to roam.
Fozzie is a great deal of fun, super handsome, and super seet. If you'd like to meet him and get to know his silly self, just let us know!
(A Basset-Shar-Pyr)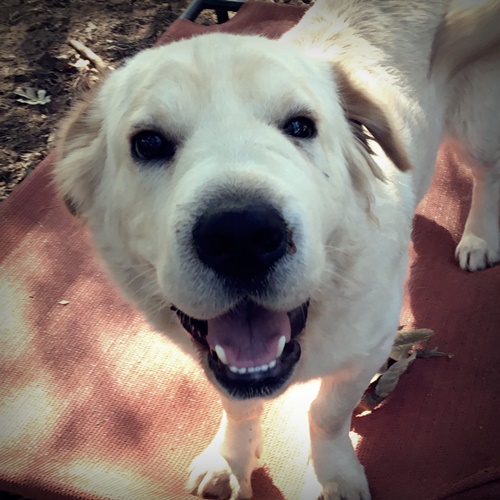 Stuckey is a delightful little fella who has the brightest, chirpiest disposition around. A lover of all, this year old Basset/Sharpei/Pyr (and who knows what else?) is one happy boy that everyone falls in love with. Longer than he is tall, he's not only a sweetheart, but he's the cutest thing ever!
Stuckey gets along with all dogs but isn't quite sure of cats. He thinks humans are great, and pretty much anything else. He's an all around good natured little guy that you can't help but fall in love with.
Stuckey will wander due to the hound heritage, so a fence would be best for him. Since he loves to go outside and play, especially with his canine buddies, the fence will keep him safe in the yard. He also loves to come inside and snuggle with his people or his best furry friends, and gets an A+ in snuggle-ology!
Stuckey is one of those dogs that lifts your spirits and brightens the day. So let us know if you'd like to put a smile on your face by meeting this super little guy.